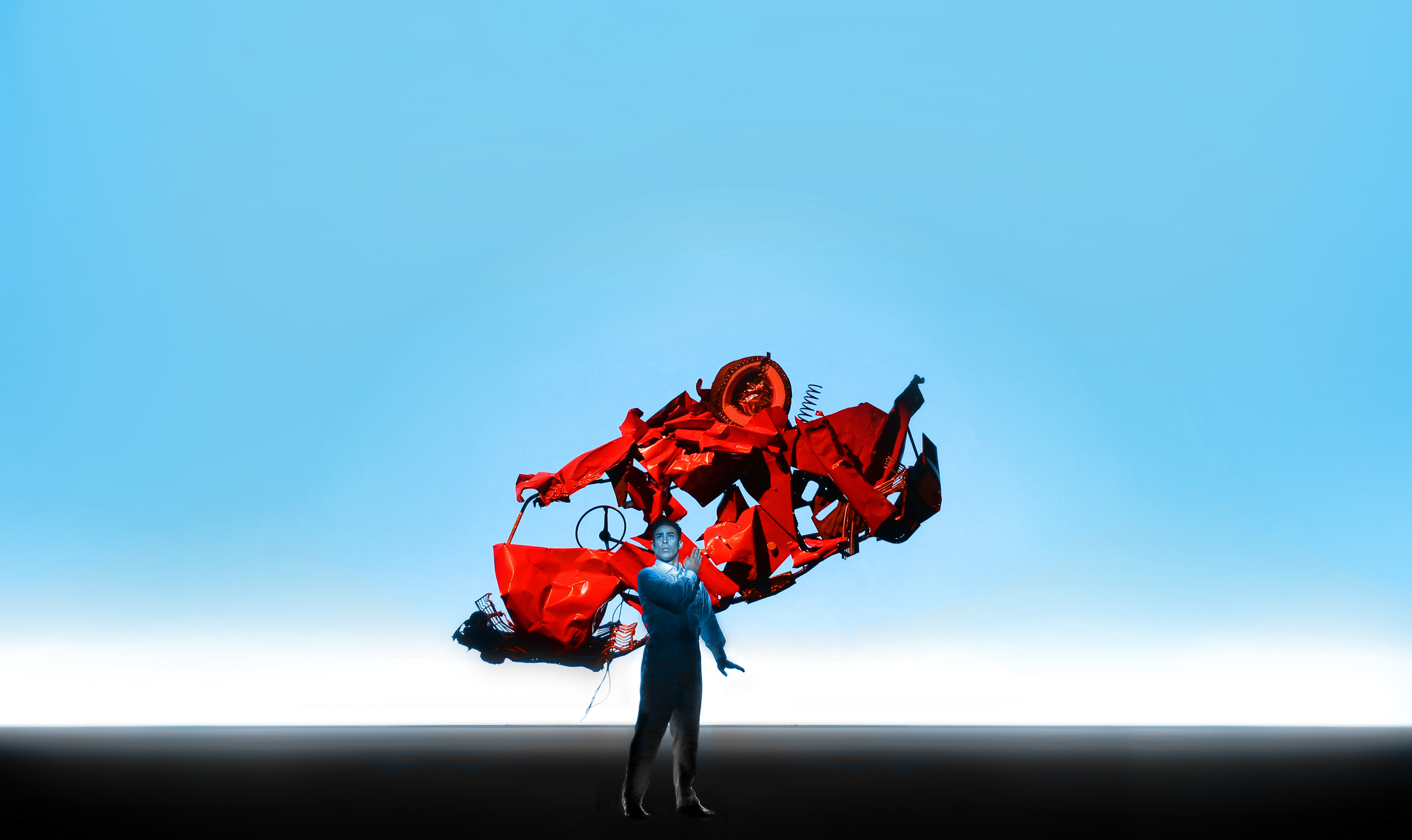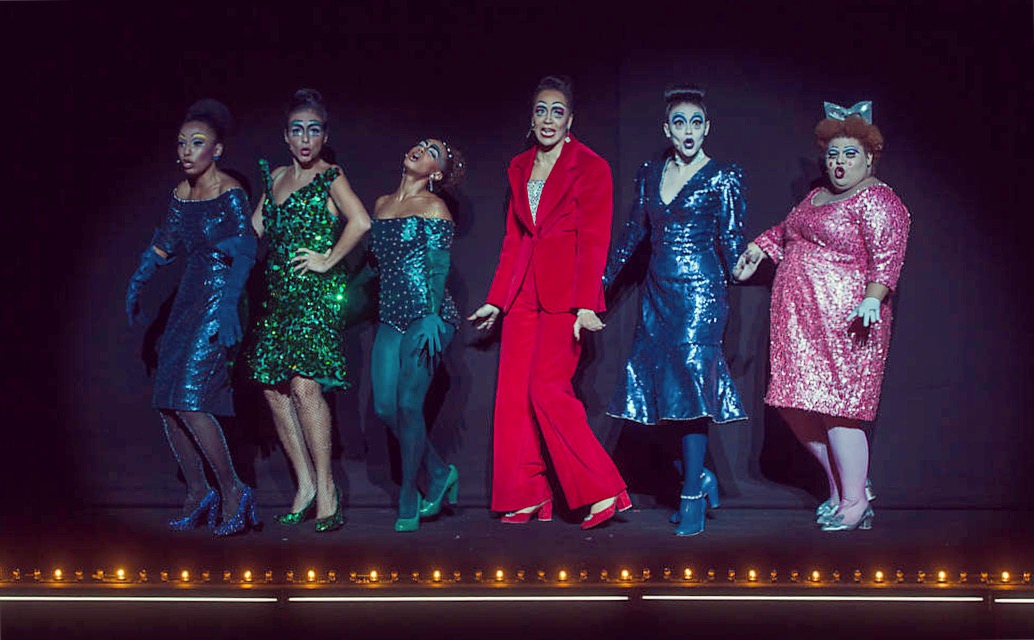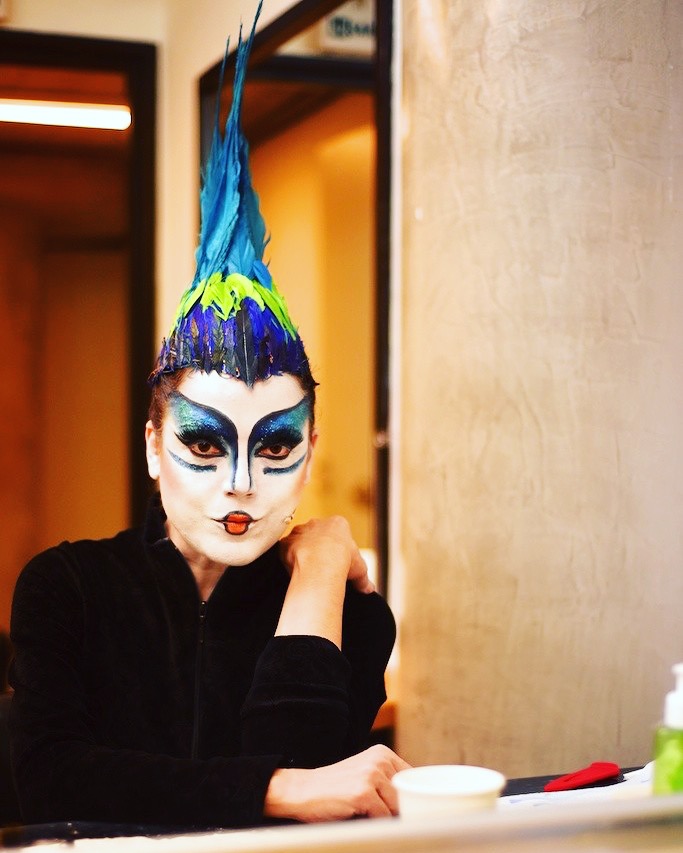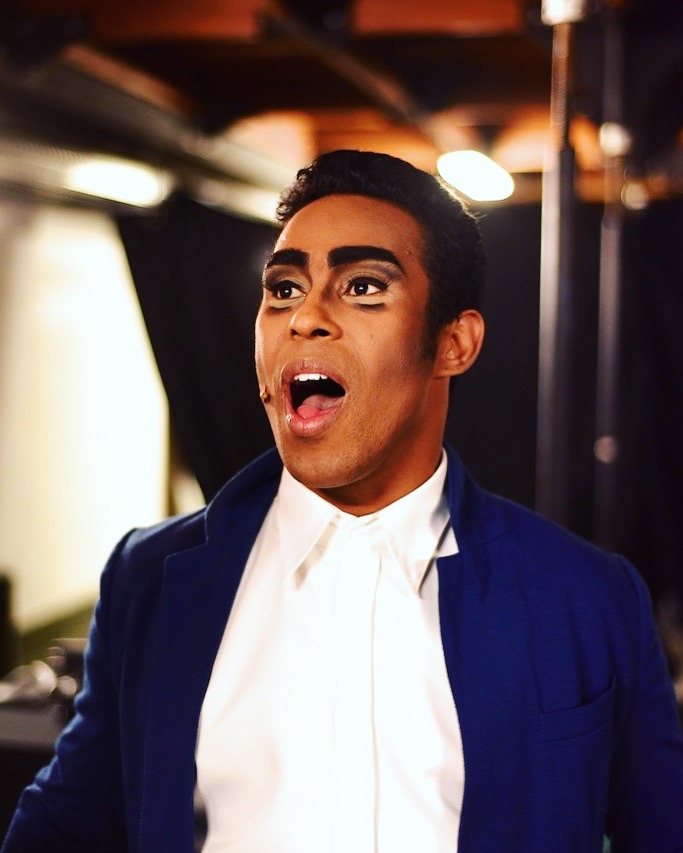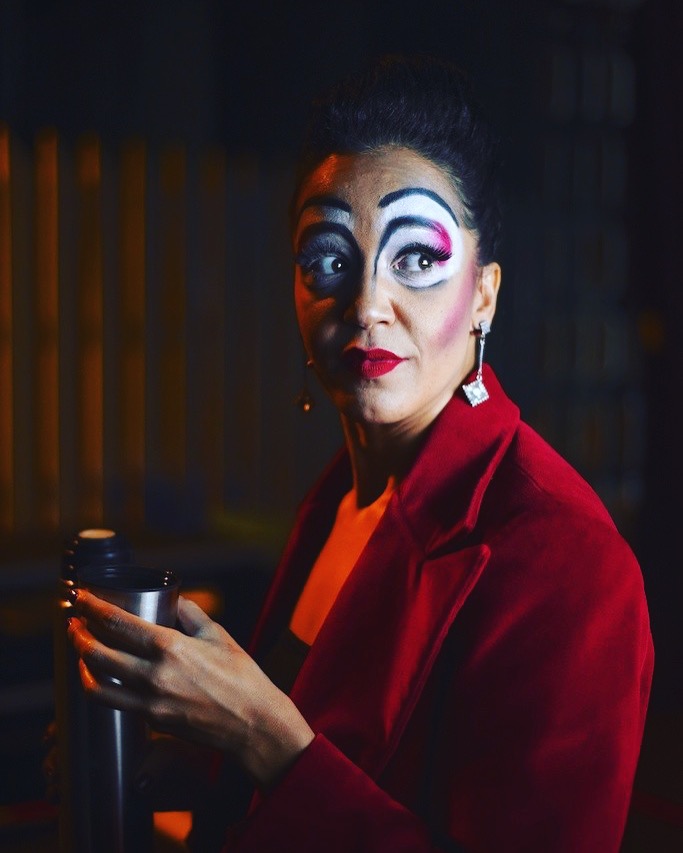 Garrincha - a street opera
Garrincha - uma opera das ruas is a musical evening based on the life of the Brazilian football legend. Garrincha was part of the team that won the World Cup in 1958 and 1962 and made Brazil respected throughout the sport. The love of Garrincha's life was Elza Soares, herself a legend, the fiery songbird of the favela. Garrincha's stardom on the field was brief and his marriage to Elza also came to an end in time, but the joy of his style of playing and the love he and Elza shared lives on. In Garrincha, Robert Wilson's aesthetic meets the beat and color of a hopeful Brazil.
by Robert Wilson and Darryl Pinckney, based on an idea by Danilo Santos de Miranda
in collaboration with -
text Darryl Pinckney
music Hal Willner
co-direction Charles Chemin
costumes Carlos Soto
sets Annick Lavallée-Benny
lights John Torres
makeup Manuela Halligan
light supervision Marcello Lumaca
director assistant André Guerreiro Lopes
production coordinator Simona Fremder
personal assistant to Bob Wilson Owen Laub
production Ricardo Muniz Fernandes, Julio Cesarini, Ricardo Frayha
The piece is produced by SESC São Paulo and Change Performing Arts.
Prologue - Pau Grande, ensemble
cast, Carol Bezerra, Claudia Noemi, Claudinei Brandão, Cleber, D'Nuncio, Dandara Mariana, Daniel Infantini, Farnanda Faran, Jhe Oliveira, Lucas Wickhaus, Naruna Costa, Nathália Mancinelli, Roberta Estrela D'Alva, Robson Catalunha
featuring, Bete Coelho, Lígia Cortez, Luiz Damasceno
musicians, Alexandre Ribeiro, Fabricio Rosil, João Poleto, Roberta Valente, Samba Sam, Zé Barbeiro
photo: Julian Mommert
Prologue - Pau Grande, Bete Coelho
costume design assistant Carol Donato
atelier Judite de Lima, seamstresses Dilma de Oliveira, Edmeia Evaristo, Josefa Gomes, Judite de Lima, Maria Lúcia da Silva
tailor Miguel Angel Arrua
hats Eduardo Laurino with the assistance of Lena Rocha, Aline Marques, Yasmin Maria Soares Ramos
shoes Fernando Pires
featherwork and embroidery Carlos Alves, Douglas Silva, Leonardo Martins, Maycon Douglas
dressers Nayara de Carvalho, Rosio Hurtado, Sabrina Leal
alterations and additional fabrication Enrique Casas
photo: Julian Mommert
Scene I A, The Cotton Factory, left to right: Cleber D'Nuncio, Fernanda Faran, Daniel Infantini, Carol Bezera
photo: Julian Mommert
Scene I A, The Cotton Factory, Jhe Oliveira as Garrincha
photo: Julian Mommert
Scene I B, Barefoot Football, left to right: Lucas Wickhaus, Jhe Oliveira
photo: Julian Mommert
Scene I C, Fence, Roberta Estrela d'Alva
photo: Julian Mommert
Scene I C, Fence, left to right: Daniel Infantini, Carol Bezerra, Nathália Mancinelli, Robson Catalunha, Roberta Estela D'Alva, Lucas Wickhaus, Fernanda Faran, Dandara Mariana
photo: Victor Iemini
Scene II A, Nightclub / Stadium, Jhe Oliveira as Garrincha
photo: Victor Iemini
Scene II A, Nightclub / Stadium, left to right: Lucas Wickhaus, Cleber D'Nuncio, Robson Catalunha, Claudinei Brãndao, Fernanda Faran, Luiz Damasceno
photo: Julian Mommert
Scene II A, Nightclub / Stadium, Naruna Costa as Elza Soares
photo: Julian Mommert
Scene II A, Nightclub / Stadium, ensemble
photo: Victor Iemini
Scene II A, Nightclub / Stadium, left to right: Lucas Wickhaus, Naruna Costa
photo: Victor Iemini
Scene II A, Nightclub / Stadium, Jhe Oliveira as Garrincha
photo: Victor Iemini
Scene II B, Tickertape Parade, Robson Catalunha and Jhe Oliveira
photo: Julian Mommert
Scene II C, Airplane, Jhe Oliveira
photo: Victor Iemini
Scene II C, Airplane, Roberta Estrala d'Alva, Carol Bezera
photo: Julian Mommert
Scene II C, Airplane, Luiz Damasceno as the football boss, Garrincha's doting daughters
photo: Julian Mommert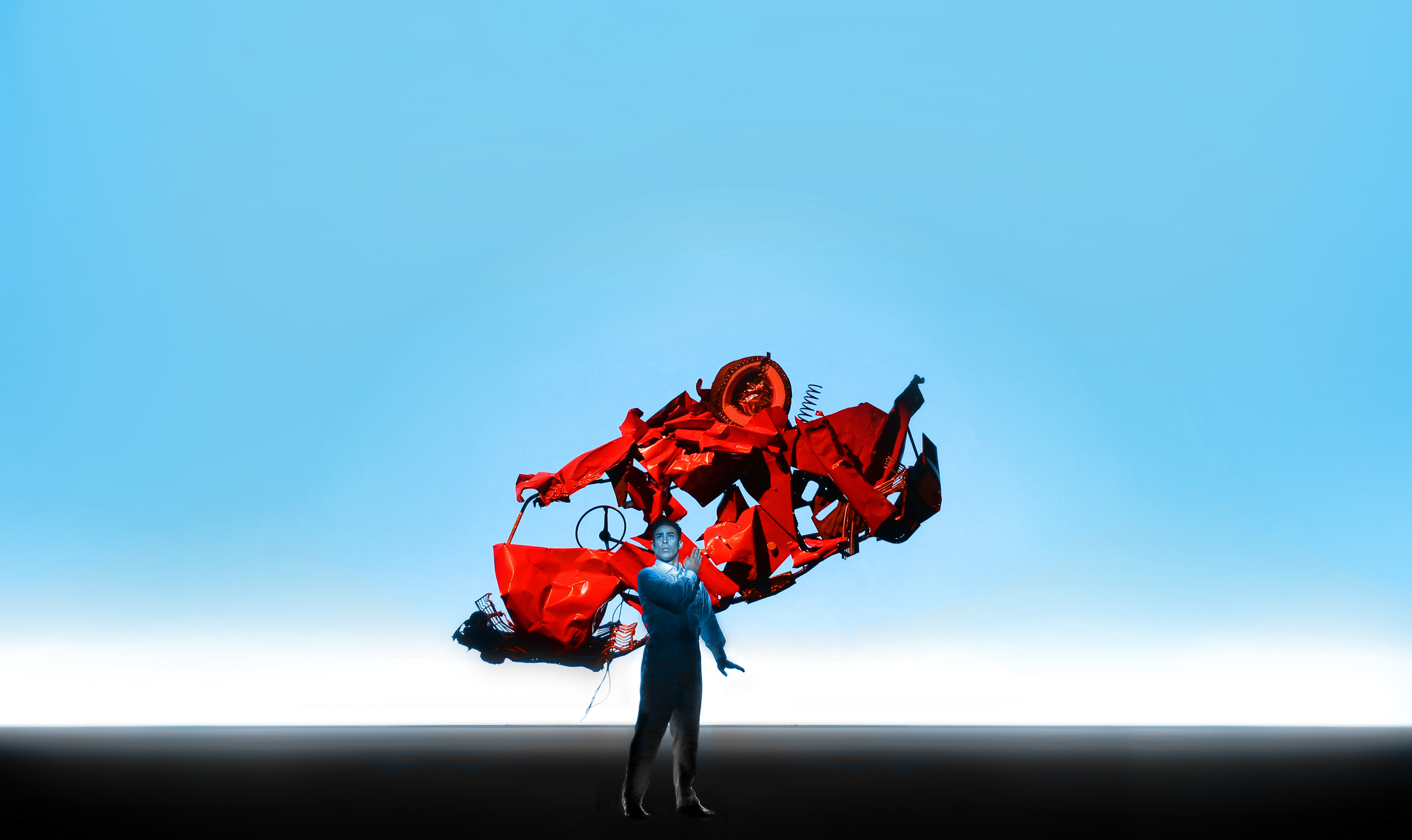 Scene III, Carcrash, Jhe Oliveira
photo: Victor Iemini
Knee Play, Bete Coelho and Lígia Cortez as the Birds
photo: Julian Mommert
Scene IV A, Knee Injury / Bathtub, ensemble
photo: Julian Mommert
Scene IV A, Knee Injury / Bathtub, Naruna Costa
photo: Julian Mommert
Scene IV A, Knee Injury / Bathtub, left to right: Daniel Infantini, Jhe Oliveira, Lucas Wickhaus, Luiz Damasceno
photo: Julian Mommert
Scene IV A, Knee Injury, Bathtub, Naruna Costa and Robson Catalunha
photo: Julian Mommert
Scene IV B, Meeting of the Birds, Lígia Cortez
photo: Julian Mommert
Scene IV B, Meeting of the Birds, Bete Coelho
photo: Julian Mommert
Scene IV B, Meeting of the Birds, Jhe Oliveira
photo: Julian Mommert
Scene IV B, Meeting of the Birds, Ligia Cortez, Bete Coelho
photo: Julian Mommert
Scene IV B, Meeting of the Birds, left to right: Lígia Cortez, Bete Coelho, Jhe Oliveira
Scene IV B, Meeting of the Birds, left to right, Dandara Mariana, Carol Bezera, Claudia Noemi
photo: Julian Mommert
Scene IV B, Meeting of the Birds, ensemble
photo: Julian Mommert
Scene IV C, Bicycles, Jhe Oliveria as Garrincha, Naruna Costa as Elza Soares
photo: Julian Mommert
Scene IV C, Bicycles, Daniel Infantini, Carol Bezera
photo: Julian Mommert
Scene IV C, Bicycles, ensemble
photo: Julian Mommert
Scene IV C, Bicycles, Fernanda Faran, Roberta Estrela d'Alva
photo: Julian Mommert
Scene V A, Party, left to right: Lucas Wickhaus, Jhe Oliveira, Roberta Estrela D'Alva, Fernanda Faran, Naruna Costa
photo: Julian Mommert
Scene V A, Party, Lucas Wickhaus
photo: Julian Mommert
Scene V A, Party, Jhe Oliveira, Dandara Mariana
photo: Julian Mommert
Scene V A, Party, Naruna Costa as Elza Soares
photo: Julian Mommert
Scene V C, Freeing the Birds, Luiz Damasceno & Jhe Oliveira
photo: Julian Mommert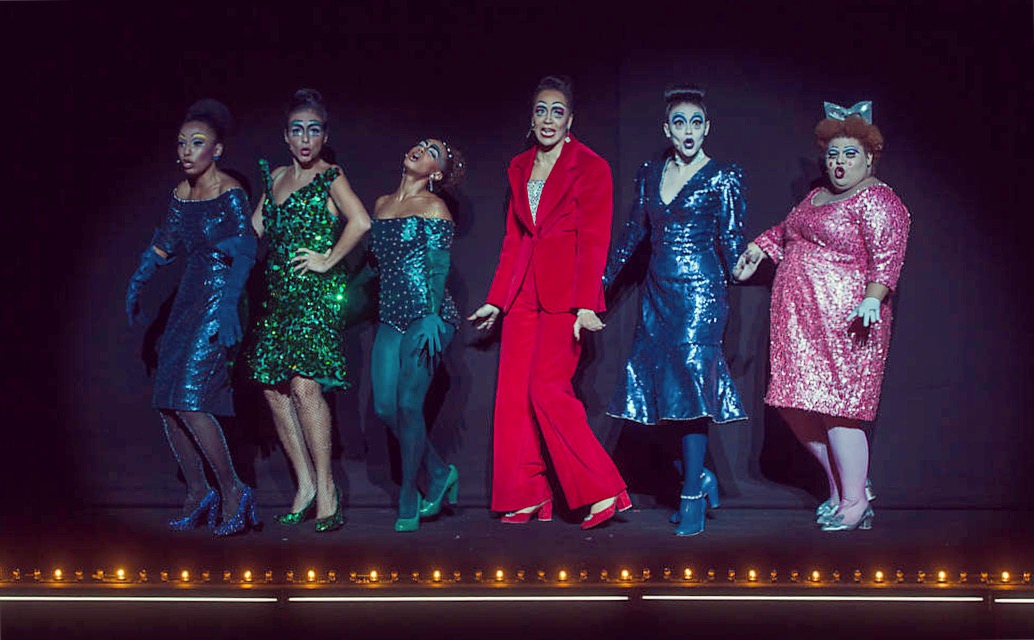 Knee Play, left to right: Fernanda Faran, Carol Bezerra, Dandara Mariana, Roberta Estela D'Alva, Nathália Mancinelli, Claudia Noemi
Epilogue, Pau Grande, ensemble
photo: Julian Mommert
costume sketch for Lígia Cortez (December 2015), over image of Kayapo headdress
costume sketch for Bete Coelho, November 2015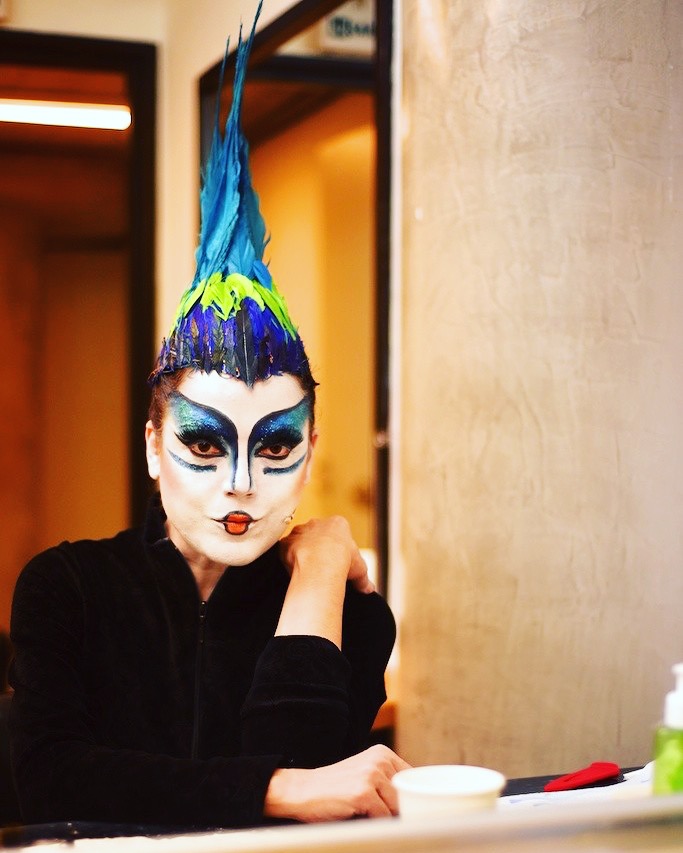 Bete Coelho, makeup by Manuela Halligan
photo: Bob Sousa
sketch for Jhe Oliveira as Garrincha, December 2015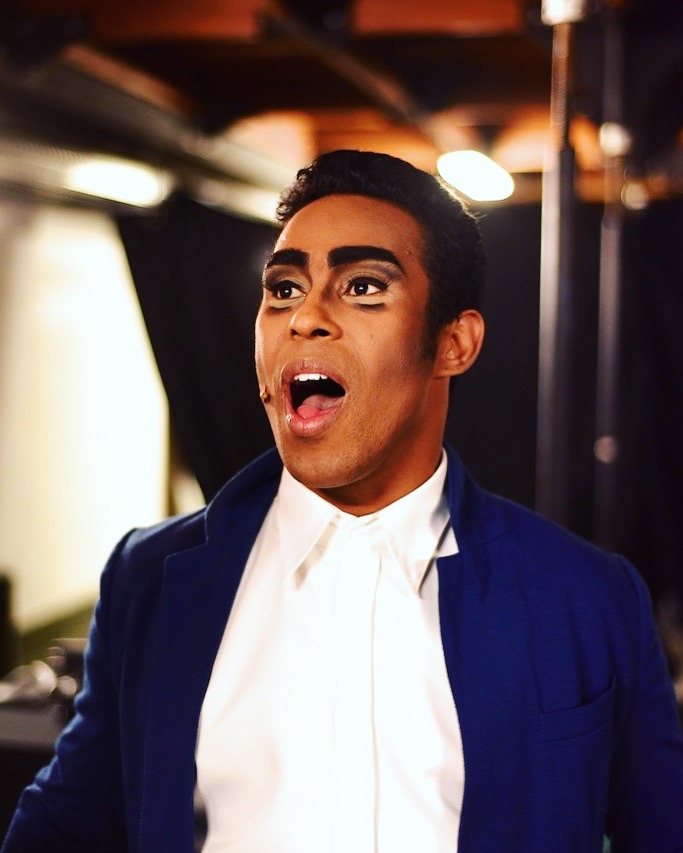 Jhe Oliveira, makeup by Manuela Halligan
photo: Bob Sousa
Naruna Costa, makeup by Manuela Halligan
photo: Bob Costa
sketch for Naruna Costa as Elza Soares, November 2015
costume studies and swatches, February 2016
Naruna Costa as Elza Soares - trimmed coque and ostrich feathers over sequins; turban by Eduardo Laurino
photo: Carlos Soto
costume studies; samples of trimmed coque feathers, pirarucu leather
sketch for Roberta Estrela D'Alva, January 2015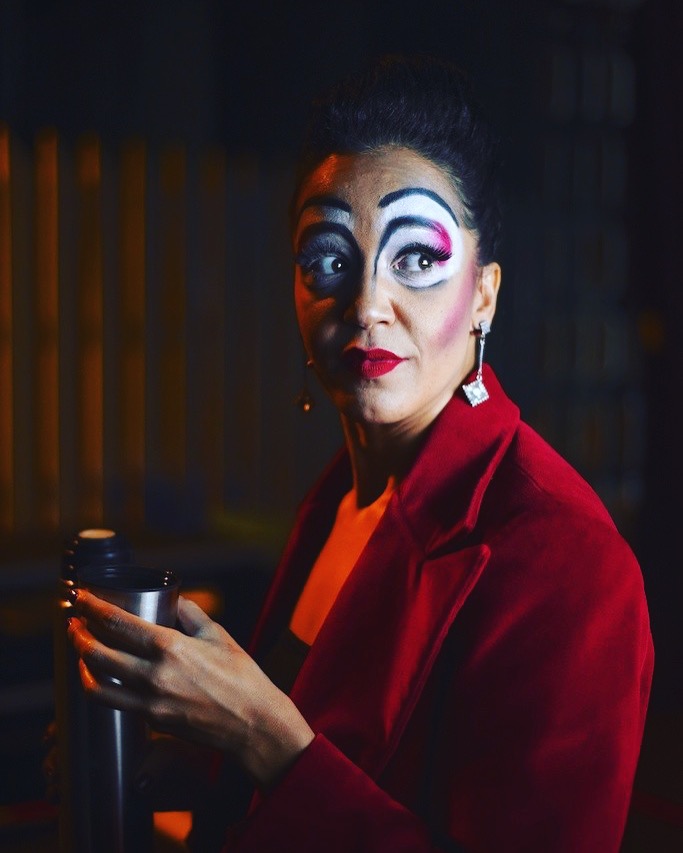 Roberta Estrela D'Alva, makeup by Manuela Halligan
photo: Bob Sousa
costume study for Nathália Mancinelli and swatches, February 2016
Nathália Mancinelli, makeup by Manuela Halligan
photo: Bob Sousa
Fernanda Faran, makeup by Manuela Halligan
photo: Bob Sousa
costume sketch for Robson Catalunha, January 2016
Robson Catalunha, makeup by Manuela Halligan
photo: Bob Sousa
Lucas Wickhaus, makeup by Manuela Halligan
photo: Bob Sousa
costume sketch for Fernanda Faran and Dandara Mariana, December 2015
Dandara Mariana, makeup by Manuela Halligan
photo: Bob Sousa
costume sketch for Daniel Infantini, January 2016
Luiz Damasceno, makeup by Manuela Halligan
photo: Bob Sousa
costume sketch for Carol Bezerra, December 2015
costume sketch for Garrincha's daughters, February 2016
Dandara Mariana in shrunken boater hat in bleached straw with composite jersey feathers, fabricated by Eduardo Laurino; based on Asháninka headdress from Acre, Brazil
photo: Julian Mommert
sketches by hatmaker Eduardo Laurino
left to right: Carlos Soto, Carol Donato, Eduardo Laurino; choosing primary materials
photo: Lena Rocha