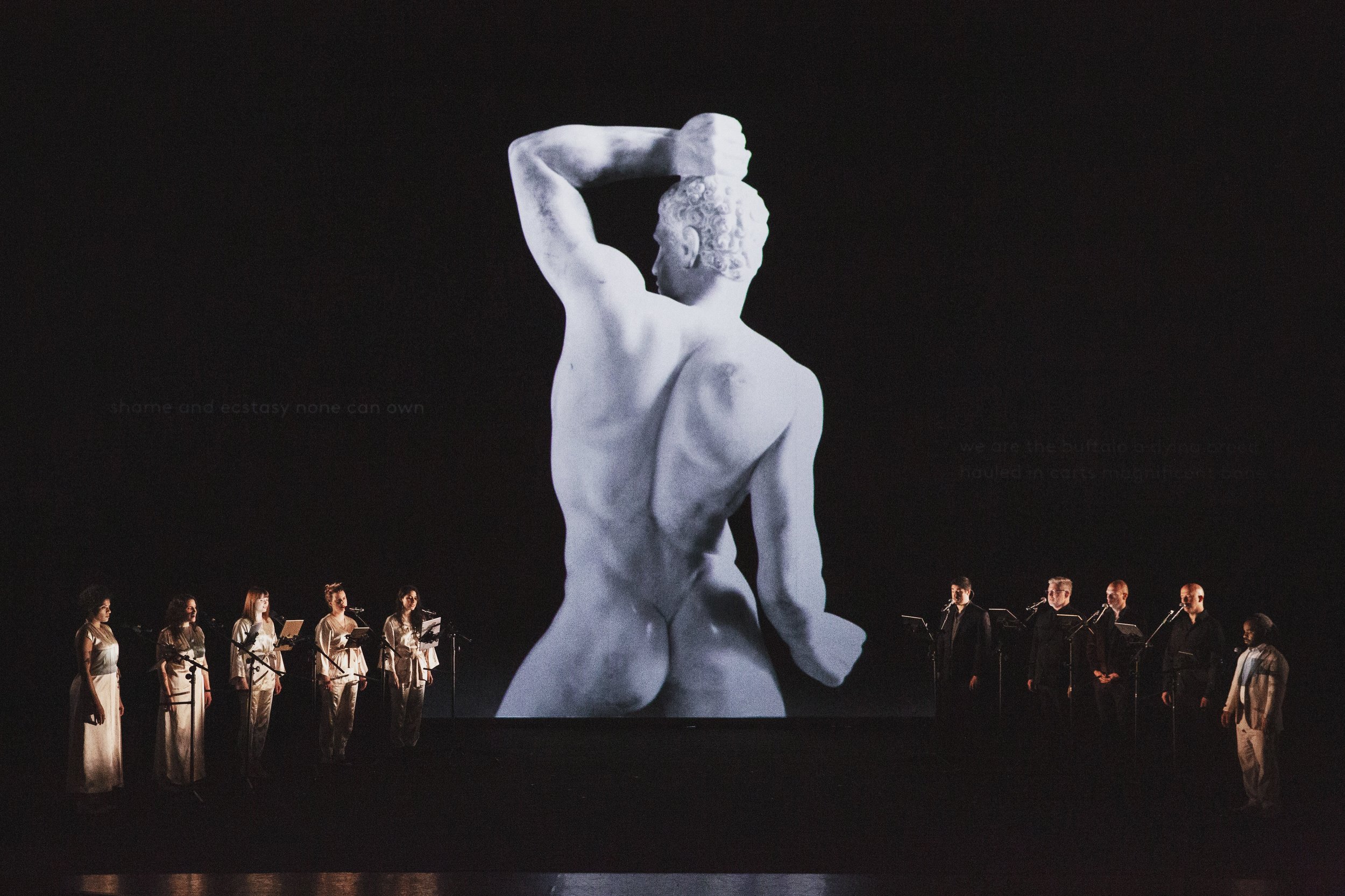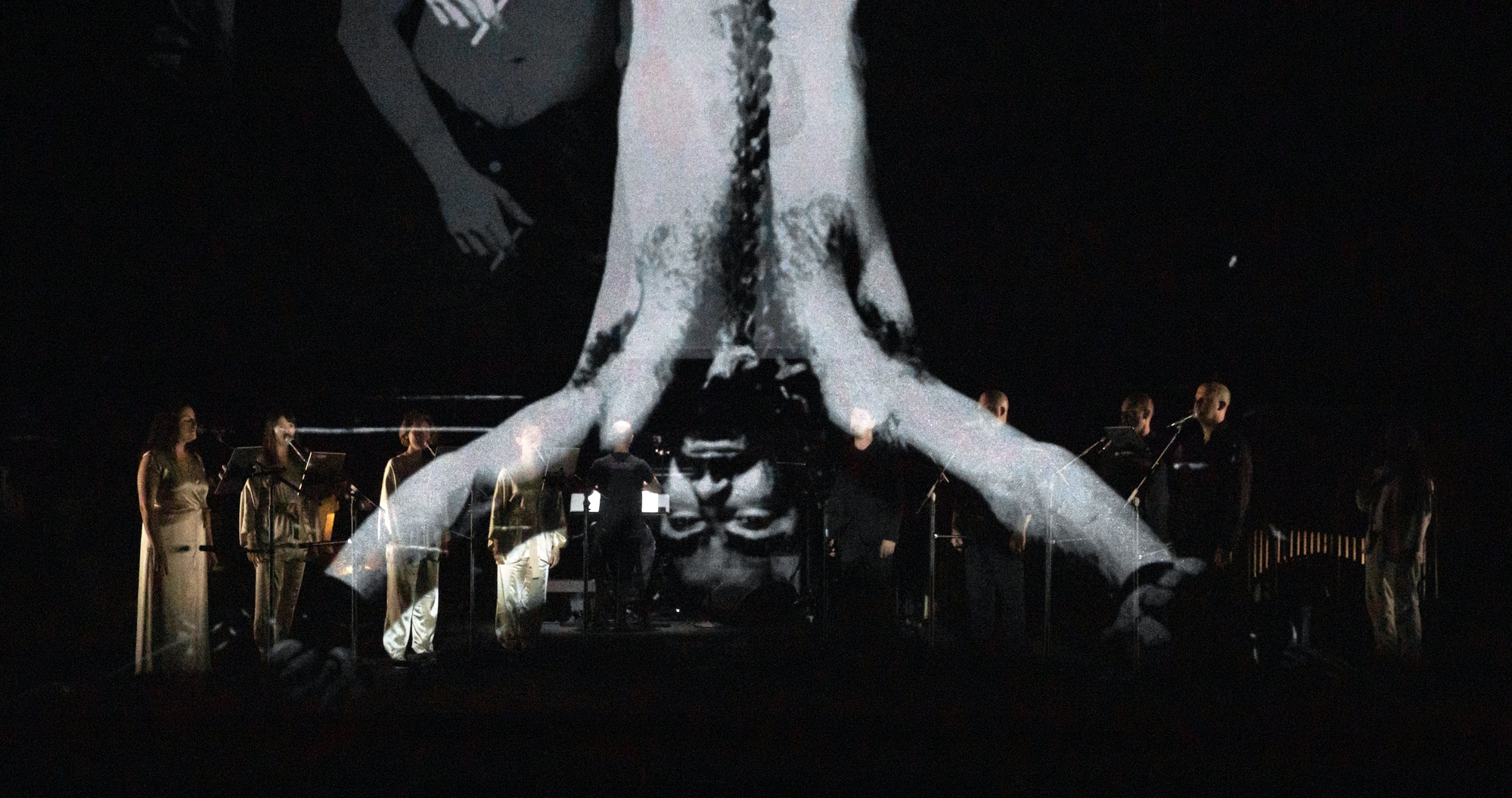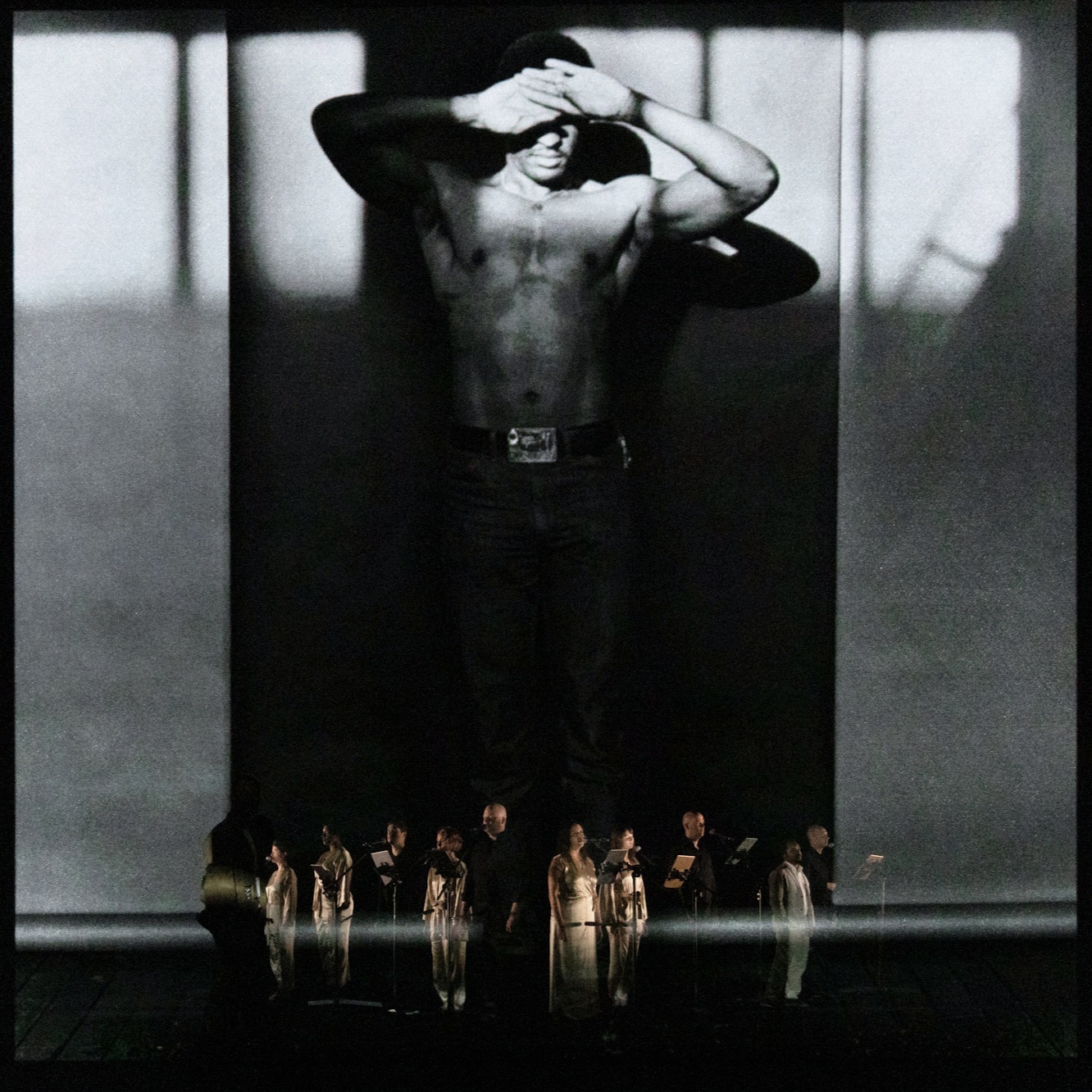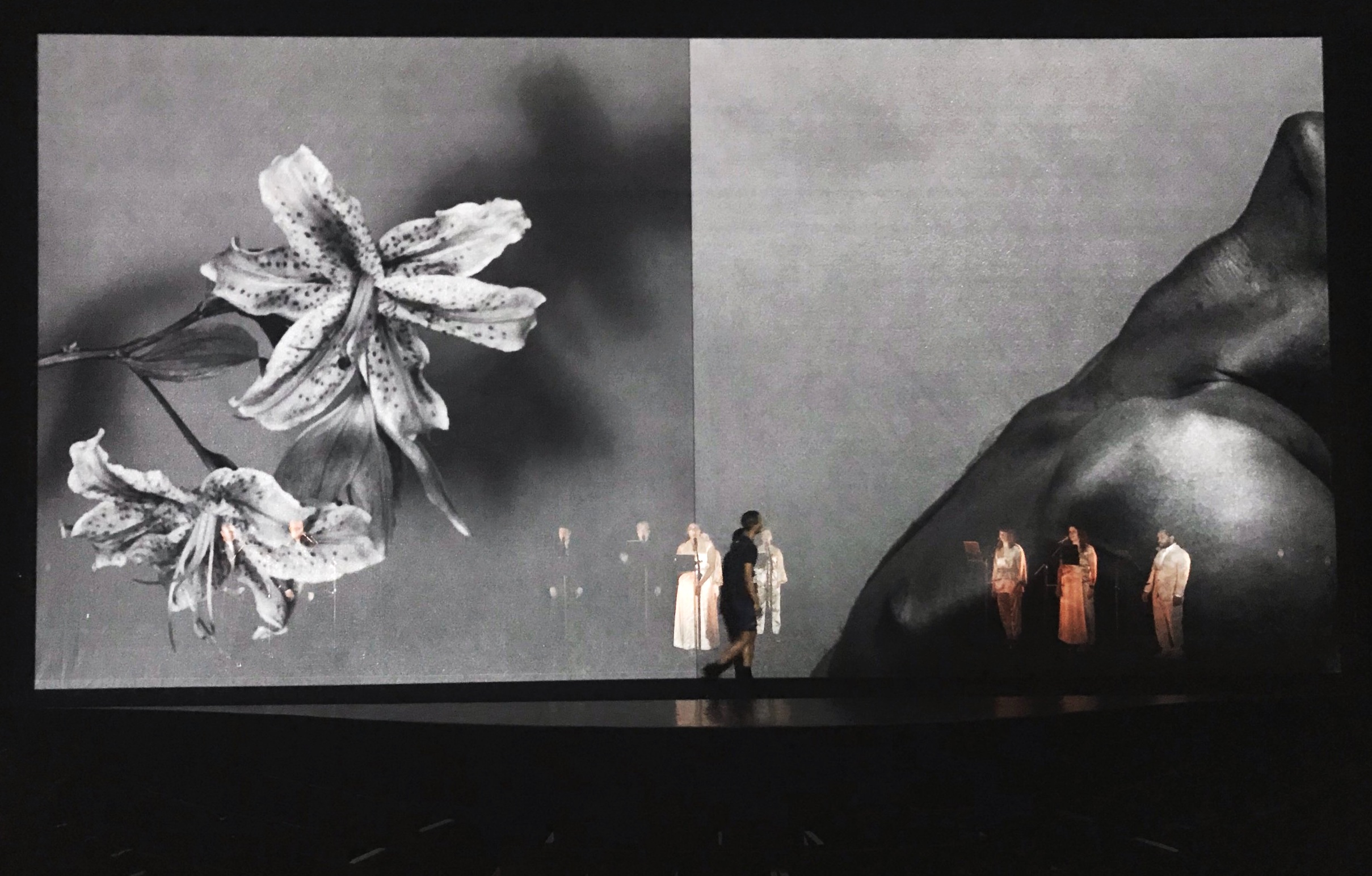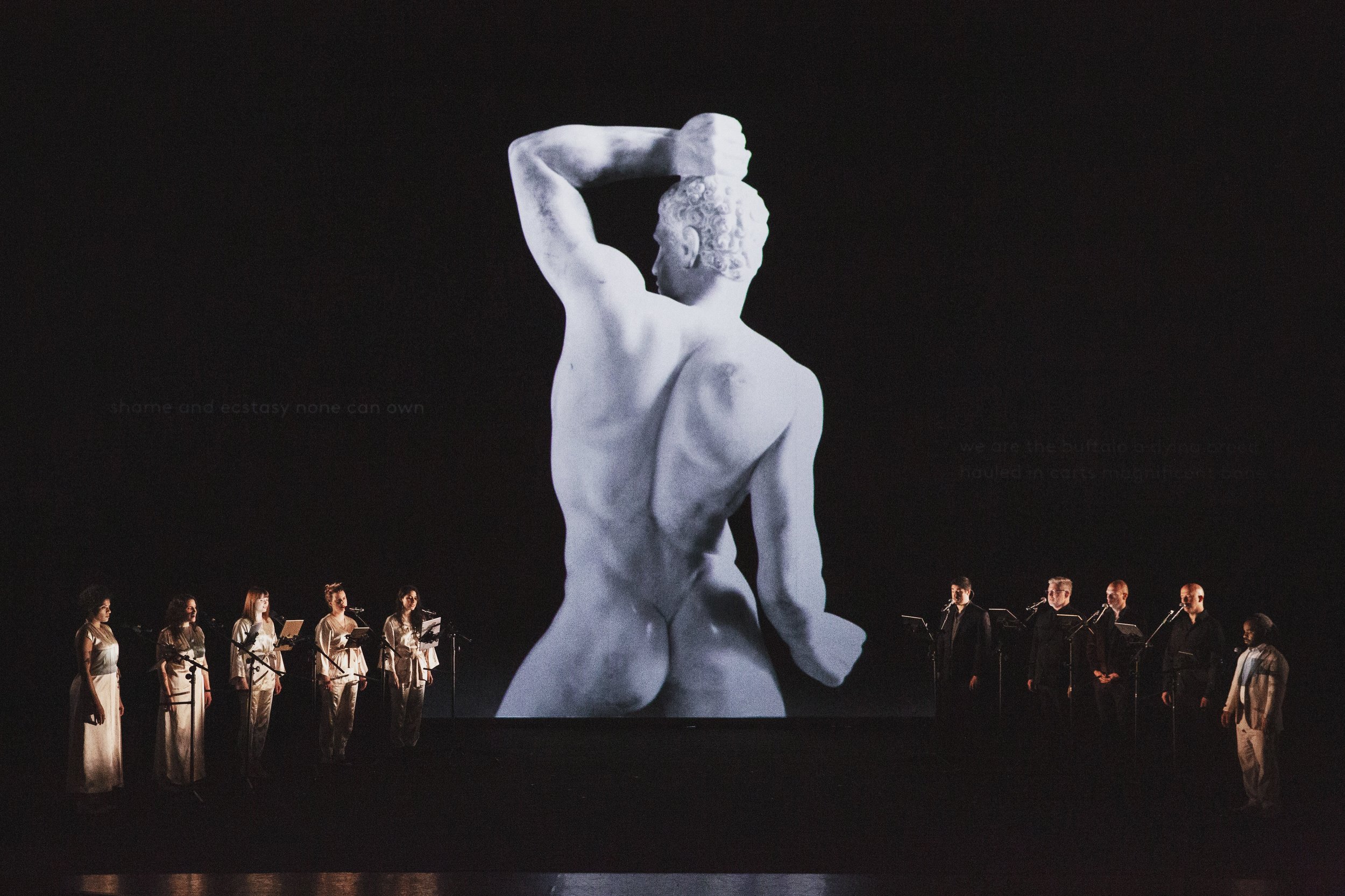 Triptych (Eyes of One on Another), 2019
Robert Mapplethorpe shook the world with his striking images of S/M, still lifes and black and interracial subjects - thrusting the artist into the national eye within the unfolding drama of culture wars and obscenity trials. Thirty years after his death we still cannot turn away. Inspired by Mapplethorpe's challenge of the ideals of artistic expression, human sexuality, and public decency, Bryce Dessner, one of the most sought-after contemporary composers of his generation, has set an original and soaring oratorio. This genre-melding theatrical event also features the poetry of Essex Hemphill, a poet, and activist working at the forefront of Black, Gay liberation throughout the 1980s and 90s and poet and muse Patti Smith. Filtered through the lens of a uniquely intergenerational and cross-cultural team of visionary artists including librettist Korde Arrington Tuttle, director Kaneza Schaal and designer Carlos Soto in collaboration with the renowned vocal ensemble, Roomful of Teeth, Triptych (Eyes of One on Another) is an unblinking, present-day meditation on images that reject being relegated to the past. This multi-disciplinary mash-up of photography, music, and poetry asks us to reconsider what it is to see and be seen, putting the audience inside the artist's viewfinder, to witness Mapplethorpe's beautiful, bold, voracious interpretation of how nature and humans look, touch, feel, hurt and love one another.
composed by Bryce Dessner
libretto by Korde Arrington Tuttle
featuring words by Essex Hemphill & Patti Smith
directed by Kaneza Schaal
featuring Roomful of Teeth
with Alicia Hall Moran & Isaiah Robinson
music direction & conducting by Brad Wells
produced by ArKtype / Thomas O. Kriegsmann
in cooperation with The Robert Mapplethorpe Foundation
associate director Lilleth Glimcher
associate music director William Brittelle
set & costume design by Carlos Soto
lighting design by Yuki Nakase
video by Simon Harding
production management by William Knapp
associate lighting design Valentina Migoulia
video engineer Moe Shahrooz
dramaturgy by Talvin Wilks & Christopher Myers
Music by Bryce Dessner is used with permission of Chester Music Ltd.
An ArKtype Production, Produced in Residency with and Commissioned by University Musical Society, University of Michigan, Ann Arbor, MI. Co-produced by Los Angeles Philharmonic, Gustavo Dudamel Music and Artistic Director. TRIPTYCH was co-commissioned by BAM; Luminato Festival, Toronto, Canada; Stavros Niarchos Foundation Cultural Center, Athens, Greece; Cincinnati Opera, Cincinnati, OH; Cal Performances, UC Berkeley, Berkeley, CA; Stanford Live, Stanford University, Stanford, CA; Adelaide Festival, Australia; John F. Kennedy Center for the Performing Arts for performance as part of DirectCurrent 2019; ArtsEmerson: World on Stage, Emerson College, Boston, MA; Texas Performing Arts, University of Texas at Austin, Austin, TX; Holland Festival, Amsterdam; Wexner Center for the Arts, Ohio State University, Columbus, OH; the Momentary, Bentonville, AR, Celebrity Series of Boston, MA, and residency development through MassMOCA, North Adams, MA.
photographs: Maria Baranova-Suzuki, Carlos Soto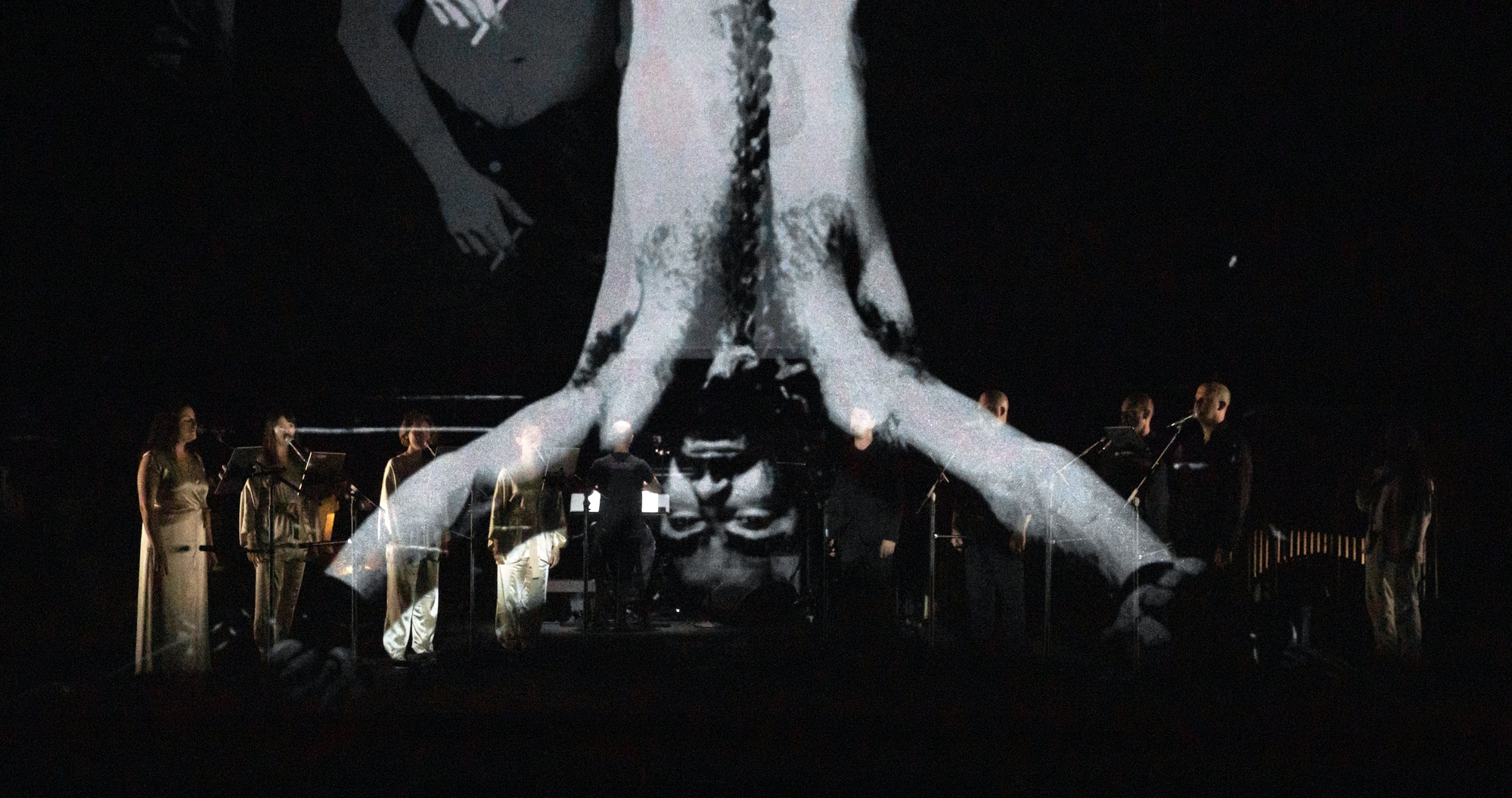 Carlos Soto's minimalist, monochrome set design served as an engaging canvas for the multimedia nature of the show. It included various translucent and opaque screens onto which Mapplethorpe's black-and-white photographs were projected, sometimes in front of the singers, sometimes behind them. During some numbers, the singers were visible only through the dark passages of Mapplethorpe's photographs, which allowed the images to be in dialogue with the performance, rather than a mere slideshow running in the background. — HYPERALLERGIC